Author: Catalina Goanta
'Web Monetization' is a term of art used to identify two aspects. First, from a broad perspective of the Internet's history, it may encompass the ways in which content on the Web may be monetized, namely, how to turn website traffic into profit. Second, from a narrower perspective, it may refer to the infrastructure needed to achieve that, and in particular to the recent browser API standard with the same name ('Web Monetization'), developed by Coil in collaboration with Mozilla Foundation.
Nutshell history of web monetization
The Internet as we know it is built on the Transmission Control Protocol (TPC, later complemented with the Internet Protocol resulting in the TCP/IP standard). Focused on the transmission of data across networks, in other words, access to information, this protocol was not originally designed or tailored for commercial gain, as 'there was no native payment system built into the web at the time' (Melendez, 2019)1.
To capitalize on the traffic generated on the Internet, web – namely website – monetization entailed, from very early on, reliance on web advertising, namely the displaying of ads on (popular) websites. Web advertising consists of popular practices such as pay per click, pay per impression, paid subscriptions, or donations. Pay per click entails a marketing strategy by which an advertiser pays a platform that displays its ads on advertising networks (e.g., Google AdSense). Each time a user clicks on a link displayed, e.g., in a query made on a search engine (e.g., Google, but also YouTube), the advertiser must pay for that click. In comparison, the pay per impression model entails that the advertiser needs to pay for every time an ad is shown to a user and does not require the user to click it to that end. Additional models rely on other streams of income, such as paid subscriptions (e.g., newspapers that require viewers to pay for access to content) or donations (e.g., Wikipedia).
Social media
Apart from traffic generated on regular websites (e.g., Blogger, Medium, but also personal websites), a massive source of online presence for current Internet users is social media. With 3.81 billion active users on social media, 2.49 billion of which are on Facebook and 2 billion on YouTube2, social media has long been a fertile environment for the monetization of user attention. Social media content creators, also referred to as influencers (see entry for influencers/content creators), bring views, likes, and clicks to platforms that are kept on making new features to reward them. The business models behind content monetization are in constant fluctuation, and so far, can be broadly divided into four different models (see Figure 1 below): influencer marketing, ad revenue, subscription/tokenization/crowdfunding, and direct selling. Influencer marketing entails the payment for the endorsement of a good or service made by an advertiser or brand to an influencer or their representative. Ad revenue is the monetization generated through the display of ads on the social media channel belonging to a creator (e.g., AdSense or Instagram TV). Subscription models entail paying a fee to access content made by a creator on a given platform (e.g., YouTube) and are similar to crowdfunding on platforms such as Patreon, where a subscription is made to support the creator across any platform they may use. In addition, tokenization allows followers to spend money on platform-specific tokens, which they can give to creators in specific moments during their enjoyment of the content (e.g., on Twitch, there is even a combination of subscriptions and tokens, where a subscription offers so-called 'emotes', and subscribers can make gifts available to creators). Lastly, direct selling entails content creators selling their own branded goods to their fan base.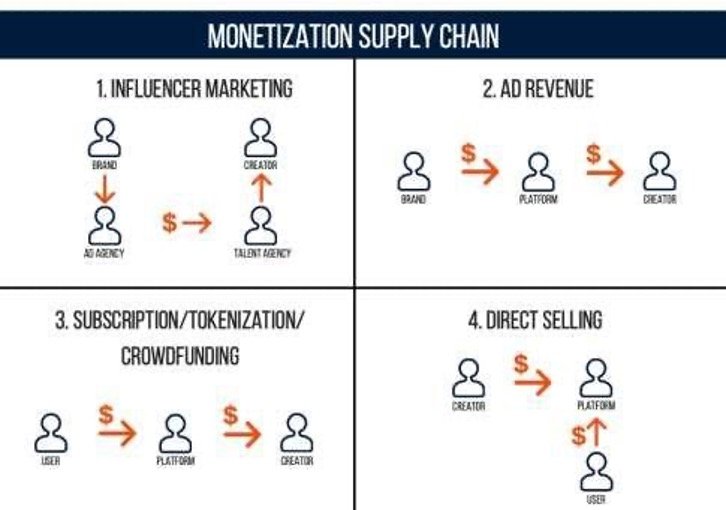 The Web Monetization protocol
In the past decades, information transfer protocols have been used to get as much information as possible on user behavior. Under the guise of personalizing advertising to fit individual needs and preferences, behavioral advertising targets users across platforms (Centre for Data Ethics and Innovation)3. New data sharing architectures such as Solid aim to challenge the Internet's advertising-based business model and give more privacy and ownership to users with respect to their data (Solid, 2020)4. The Web Monetization protocol is a proposed browser API standard that supports the generation of a payment stream between the user and the website being viewed (Web Monetization, 2020)5. Payment streams are based on an open protocol suite called Interledger, used to send payments across different ledgers (Interledger, 2020)6.
References